When the opportunity to review The Body was presented to me by Bearded Gentlemen Music I jumped on it right away. I like when I have seen a band in person before doing write-ups because I usually want to have something I can reflect on while listening to the new music. I did see The Body. YES! But wait…when was that? It felt like a long time ago. Actually, I have never even listened to an album from The Body. So really, I don't have much of a background with this duo that hails from Portland, OR. What I do remember from that night was a lot of speakers towering over Chip King and Lee Buford. The whiskey was a flowing so the rest seemed a little slushy in my memory. I did a search on the Sasquatch! Music Festival Forum to see if I posted anything about that show in the "REVIEWSSSSSS" thread and sure enough I did. It looks like I was probably still under the influence at the time because it was brief.
"November 25, 2012 8:02AM
Ended up catching Low Hums, The Body, and Earth last night at the Shakedown in Bellingham. I have been wanting to see Earth for a while now.
Low Hums are a 5 piece band that I didn't know before seeing them. They were really really good. It was psychedelic rock with a pretty decent vocalist. They also had a slide guitar and banjo at times which made it even cooler.
The Body was not the same. They were a two piece (drum and guitar) with a large stack of speakers behind the guitarist. It was LOUD. It was FUN. I had a good time.
Earth was an interesting experience. There were signs all over saying please no flash photography for medical reasons. Not sure what person in Earth had the medical problems but the crowd did good in abiding by the rules. I really wish I was high on mushies or pot but I was fresh out of everything. Unfortunately there was a dude that was at least 95% bro behind me for the first half of the set yelling to his friend and I couldn't focus on the show as I would have liked to. He then moved in front of the guy in front of me. He turned to the guy in front of me and yelled "Hey bro, they sound like tool". The guy replied "Cool, shut up turn around and listen." That was my favorite crowd moment."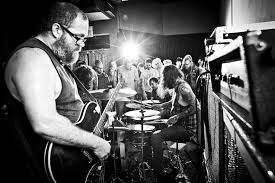 HAHA! That was pretty silly and I understand that it was not a well written review or description of what happened. Also, not sure why I would want to go into that set with mushies but whatever. Since then The Body has released numerous albums that usually seem to be a collaboration with another band. I remembered seeing one with Thou. For whatever reason I never heard anything until now. Their newest album is not a collaboration and it's called No One Deserves Happiness. The Body blurs lines when it comes to genres but in my opinion they are definitely a metal band. They created this album with the intentions of making "the grossest pop album of all time". That is intriguing enough to give it a listen right there! "One day you directed the violence you had inherited towards yourself, you dished it out like your father and you took it like your mother". The spoken word at the beginning of "Prescience" leaves some pretty gross imagery in my mind. I think they are on the right path to achieving their goal.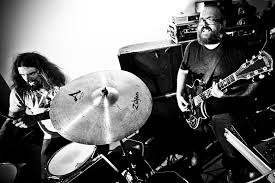 There is a wide range of feelings and emotions that oozed through my pores while listening to No One Deserves Happiness.  Each individual song has it's own appeal but The Body also have an incredible transitional skill on display with their track arrangement.  An excerpt of notes that I jotted down during a three track stretch:
""For You" scared the shit out of me and then transitioned to "Hallow/Hollow" which was still terrifying yet made me rock out at the same time.  Super disorienting vibes and I absolutely love it.  That leads you right into "Two Snakes" which had me punch-dancing out my rage. Seriously, the bass hits you like you are at an EDM show."
If I would have heard those three tracks on random for the first time I never would have guessed they were on the same album.  But in listening to the No One Deserves Happiness as a whole it seems exact and calculated.  My point is, these guys are not trying to fit in with anybody's agenda and clearly love music. The Body transcends sub genres in the metal scene. I really enjoyed the guest vocals from Chrissy Wolpert and Maralie Armstrong.  They threw curve balls at my ears.  Between the demented gnar gnar that The Body is so good at creating they would transmit vibes reminiscent of listening to Low, Bjork, and even some "Great Gig In The Sky". Since listening to No One Deserves Happiness I obviously had to go back through their discography and listen to more. By doing that research it is safe to say that they truly play what they want to play and what they love to play.
No One Deserves Happiness gets my stamp of approval for barely being safe for human consumption.  However, this album is not puppy-approved.  Galaga would be impressed by the numerous descending crazy pitches and tones, however, your dog will sit there wondering why you are doing this to them.  Get ready to rattle your third eye with one of the most interesting albums out there. I haven't seen many press/label write-ups promoting a band that does as good of a job as the press release one for No One Deserves Happiness. You can find that on Thrill Jockey's page but my favorite part is:
"Because they create an entirely singular sound, The Body is in high demand for collaborations with artists across the musical spectrum, from The Bug to Full of Hell to The Haxan Cloak and beyond. They build albums that are as lush and dense as a rainforest and as unforgiving".
That's a legit statement.  Have you seen the incredible line-up that Migration Festival put together?  It is the cream of the crop when it comes to extreme music nowadays.  The Body is performing with collaborators Krieg.  They've also released albums with two other bands that are booked for this incredible weekend in Olympia, WA (Thou and Full Of Hell).  You never know what sort of magic could happen when all of those creative minds are in the same place. We'll just have to wait and see.
Rating: 4.5/5
Thrill Jockey is releasing this album on 3/18/2016.  Purchase a copy of the album over here –>  The Body – No One Deserves Happiness
Fan of beer, dogs, vinyl, travel, shows, and eats.
Brew for @fognog (Foggy Noggin Brewing).
For the most part I only write about albums that I have personally purchased. I believe these albums are created by bands that deserve your support and money. If one person that didn't know about one of these albums enjoys it and in turn supports that band…it is all worth it. There are links to purchase the music in posts, but I also urge you to go support your local record stores if possible!